TarotNav – my unique guide to doing Tarot readings for yourself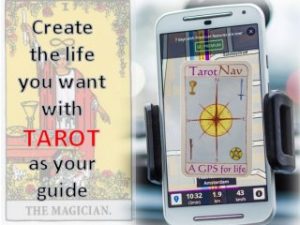 'The concept of Tarot as a GPS for Life comes from many years of doing Tarot readings for myself,' says Linda Marson. 'These readings have guided me through life-changing events, as well as everyday situations, which could be as fleeting as how to approach a potentially difficult phone conversation. I've lost count of the number of road blocks I've avoided by following directions from my TarotNav GPS!'
TarotNav is a unique set of video and written resources that are informative, easy to follow and entertaining! The video and document files can be viewed online as many times as you like. Click here for more information.
FREE class
Watch this recording for practical examples of how to use the TarotNav resources and framework to get meaningful answers to questions. Many thanks to the people who took part in the live classes – your enthusiastic participation was much appreciated. Our discussions about personality and soul cards and the three card readings we did together provide wonderful examples of how the Tarot can be used as a GPS to guide you through life.
Click here to download a copy of the guide to working out your personality and soul cards using your date of birth – your over-arching Tarot GPS!