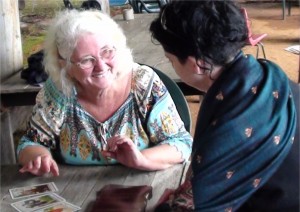 If you're looking for a Tarot reading, chances are you want advice on the best way to sort something out. Well…you've come to come to the right reader! I believe the Tarot cards you select in a reading channel messages from your higher self and your higher self often has a clearer picture of what you should be doing than your everyday self!
The cards are great for giving you signposts to the future. There's no such thing as a fixed-in-stone future – you have free will. However, if you want advice on the best direction to take at this moment, then a Tarot reading with me will definitely help. I've been reading Tarot cards since the late 1970s and been teaching Tarot since 2007. In 2017, I revised my book, Ticket, Passport and Tarot Cards and the companion TV series into a unique guide to reading Tarot for yourself – TarotNav – a GPS for Life. I also run Global Spiritual Studies, an online business that specialises in spiritual studies.
In my own life, I consult the cards and heed their messages. The picture they paint is not always the one I want to see, but I know it's the one I need to see! I believe the Tarot:
opens doors to new possibilities and new ways of seeing old issues
reveals the power you have to manifest your goals and dreams
channels energy from the divine.

The Tarot journey

The symbols in the Tarot cards tell a universal story. As you journey from the Fool to the World in the Major Arcana, from Ace to Ten in the Minor Arcana and from Page to King in the court cards, you become aware of different stages in the development of an issue or situation. If you draw Nines and Tens in the Minor Arcana, the general message is that you are nearing the end of something. If you draw Aces and Twos, you are at the beginning of something. If you draw Pages, your attitude or approach at the moment may be immature or unrealistic; you possibly lack the maturity and self-awareness of the Queens and Kings. It's a fascinating and never-ending story!

Corporate functions

I enjoy doing Tarot readings at corporate or social functions in northern NSW, Brisbane and on the Gold Coast. Tel 0404 508323 or email me to discuss your requirements.

Kodie McCann wrote…

Our company booked Linda for a Halloween event. She really made the party! Linda is kind and sweet in nature and was really pleasant to deal with from a business perspective. Every person who had a reading with Linda came out saying they resonated with everything she said. We all enjoyed our time with Linda and would definitely recommend her to anyone considering getting a personal reading, or booking her for a corporate event. Thank you, Linda! You made our party so special and memorable.

Book a reading

There are several options for having a reading with me:

in my home town of Pottsville on the Tweed Coast of NSW. It's a great spot for a holiday, so if you're in the region, call and make an appointment.
online through Skype or Zoom.  All readings are recorded and provided to you as as an audio or video file.

Use the PayPal 'Buy Now' button below to purchase a reading.