I've been reading Tarot cards since the early 1990s. What started as a pastime quickly turned into a passion. I looked around for other enthusiasts and found them in the Tarot Guild of Australia. I joined the Guild and ended up on the national committee for eight years – four of them as President.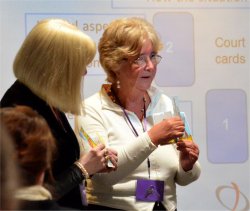 Here I am doing a workshop on reading cards for yourself at the Guild's International Tarot Conference in 2013.
Outside the Tarotsphere, I've worked as a consultant and writer in the field of education and training . In 2005 I turned my hand to writing about my twin passions of Tarot and travel, and Ticket, Passport and Tarot Cards was published in late 2005.
Before the manuscript was even finished, I was onto the next stage of the journey – a series of 22 vignettes for community television – one segment for each of the 22 Major Arcana cards. The series won an award for the best personal or spiritual development program on Australian community television in 2006.
In 2011, I launched Global Spiritual Studies, an online hub for learning experiences and products to nourish, inspire and guide you along your spiritual path. The quality of teachers is astounding. With this venture I know I have reached the place where I'm meant to be, for my light comes from providing channels through which others can see and share their light.
Do join me for a reading, for study or pack your bags and come on an enchanted journey with me!